Mary Harding
Just last week I did a raku bead firing at my home so that I would have some color samples for a class I would be teaching at the
Thousand Islands Art Center
in Clayton, New York. They are pictured above. The class was exciting and our beads came out well. Since raku beads are fired quite differently than kiln fired ceramic beads, I thought I would show you a couple of pictures of how they are fired. For this class the raku firing was a collaborative affair with the ceramic studio and myself. At The Thousand Islands Art Center they have a very skilled potter and a wonderful raku kiln which they break out 4 times a year for a community open studio type event. The public can purchase a pot, glaze it with raku glazes and watch it get fired. We were invited to participate in this firing which took place last week.
The picture above is of the kiln. It has a crank that opens it from the top after it reaches the temperature of 1800F degrees. The kiln is fueled by a propane tank like the ones used for outdoor grills.
Now that you have some idea of the process for making raku beads, I would like to share with you today a number of raku fired art beads I have found on the web. Raku beads can be very colorful and they can also be gungy and dark with exotic surfaces. I hope you enjoy this raku bead tour.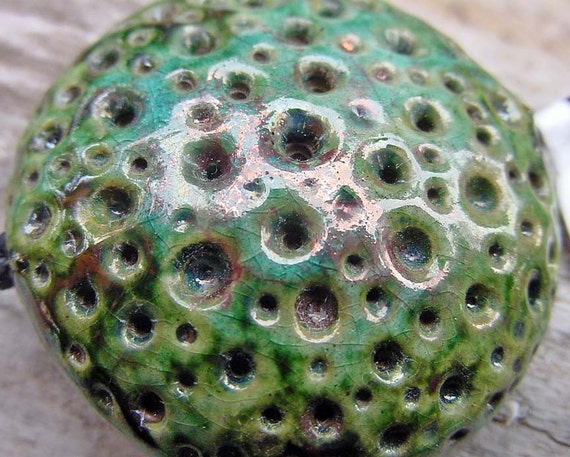 Beautiful Raku Fired Lentil Bead By
Lisa Peters Art
We will start with
Lisa Peters
, who has long been at the forefront of raku bead making.
You can see the metallic glints of copper at the center of this beads. The dark areas of black are characteristic of raku fired beads as well.
Marianne Kasparian, is the creative person behind
Maku Studio
. She too has been making raku fired art beads for a number of years. Her work is characterized by strong metallic colors and bold images.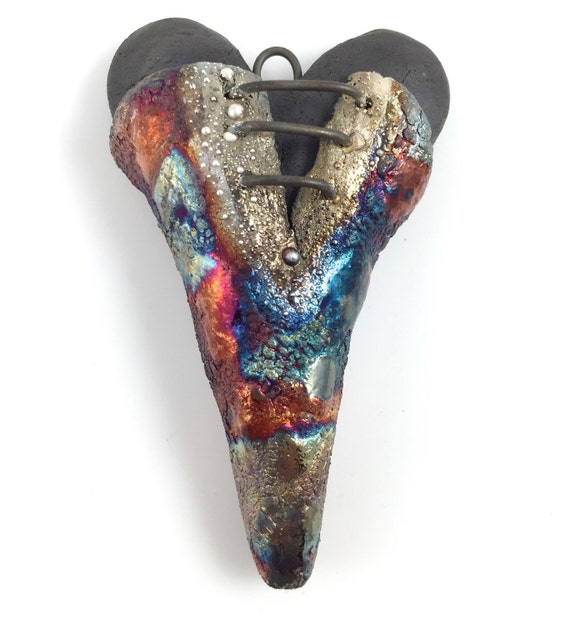 Raku Ceramic Heart Pendant by
Maku Studio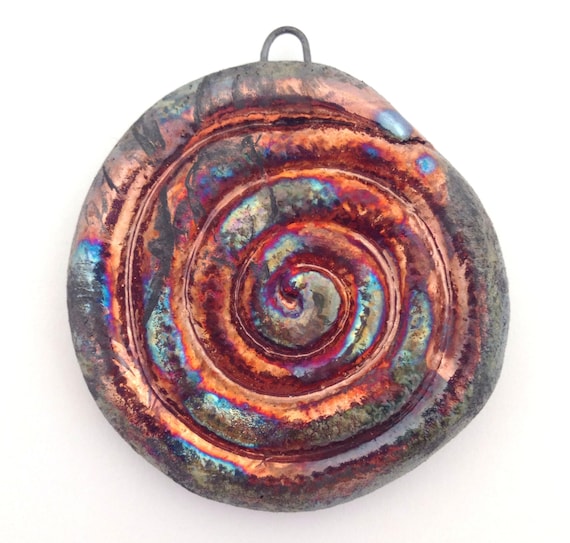 Raku Ceramic Pendant by
Maku Studio
Love all those swirls of red copper and blue which the raku firing made happen.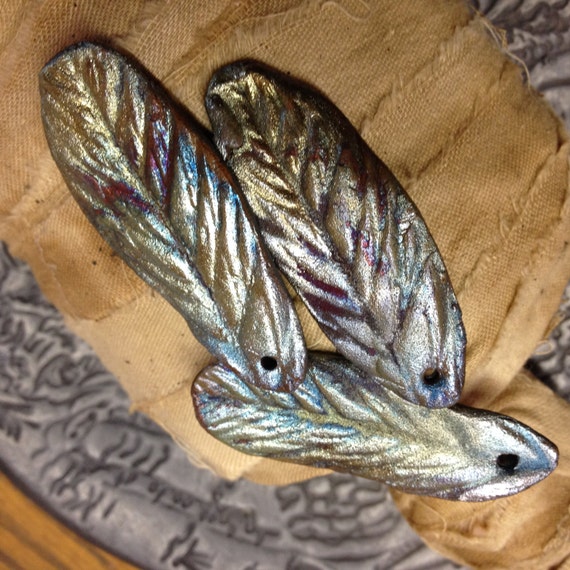 Raku fired feathers by
Wondrous Strange
More metallics, this time in golds and silver.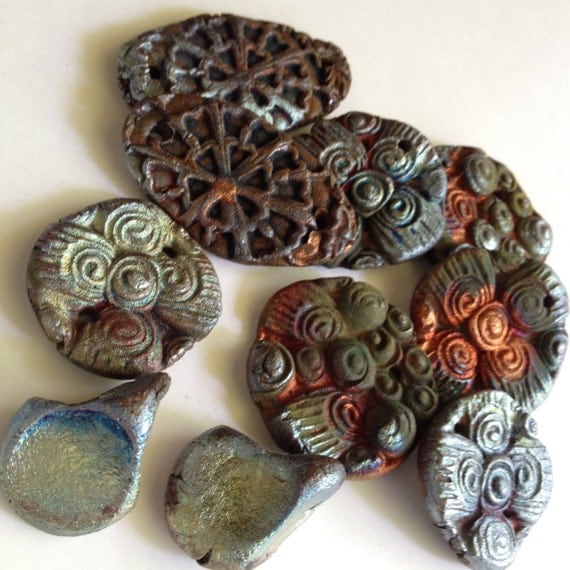 Viking Invasion Hoard Raku Fired Charms and Pendants by
Wondrous Strange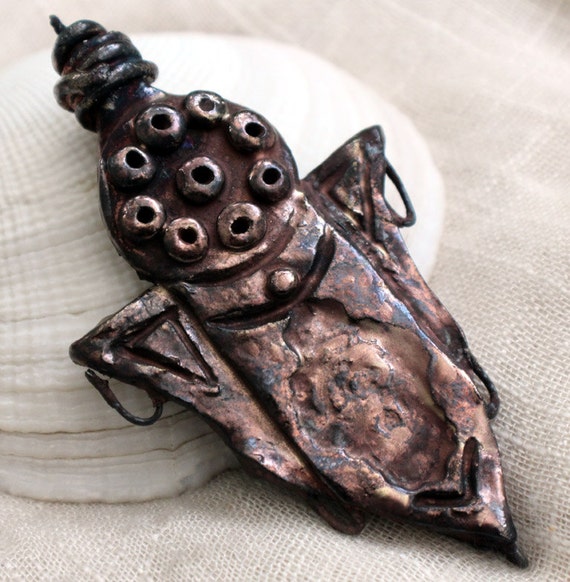 From Petra Compeau of
Scorched Earth
a raku fired steampunk necklace connector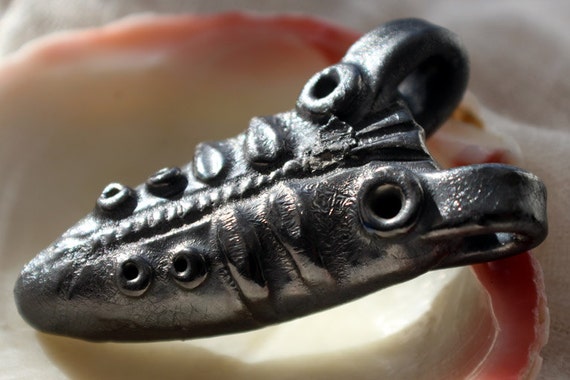 Raku Iron Age Pendant
Scorched Earth on Etsy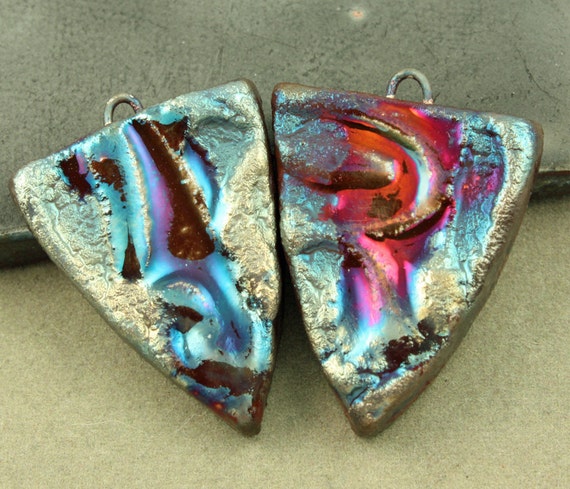 Incredible metallics titled Urban Industrial Tribal Shield Earring components from Duane Collins of
Elements Pottery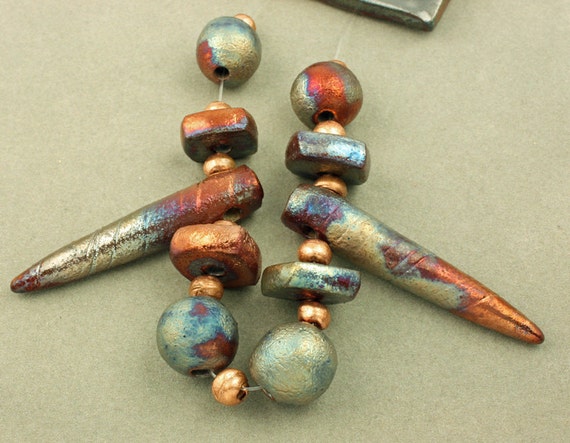 Stunning set of raku fired beads is bright copper and other metallics by
Elements Pottery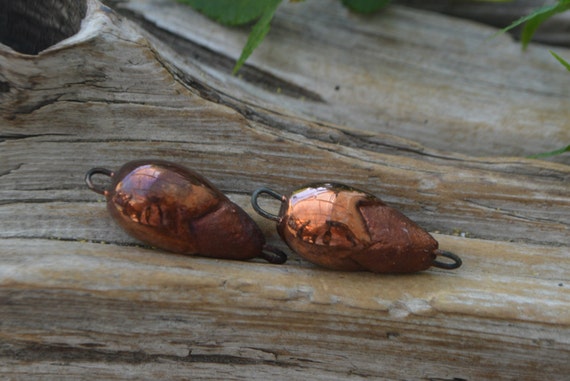 Gilded Buds Porcelain Raku Connectors by
Kiyoi Design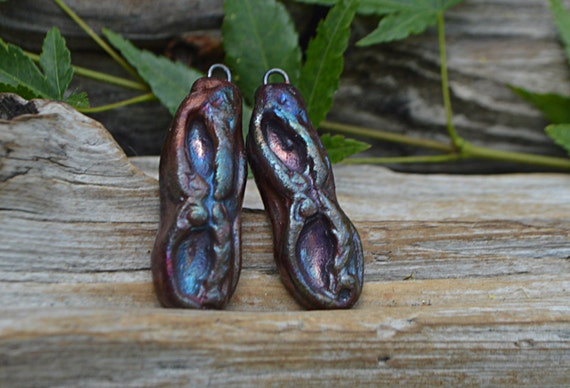 Porcelain Raku Pods by
Kiyoi Designs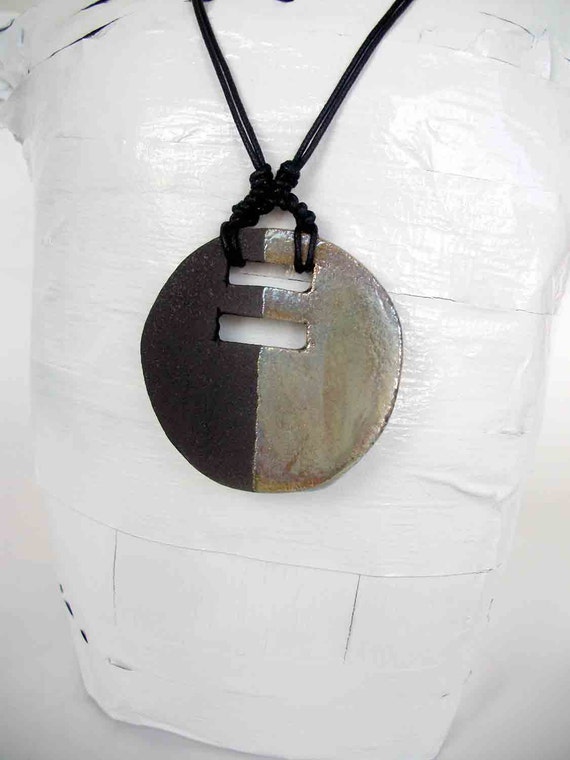 Modernistic Raku Fired Pendant by Thomas Lussi of
RakuLabFly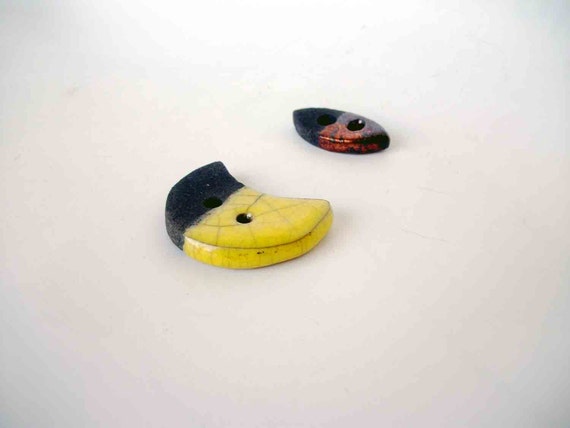 Button Set by Thomas Lussi
RakuLabFly
I want to finish up this tour with the delicate raku screen printed pendants by Caroloine Dewison of
BlueberriBeads
The one above is a screen print on ceramic clay that has been raku fired!!!
BlueberriBeads
I hope you have enjoyed this look at raku art beads. May they inspire and enrich you.
Thanks so much for stopping by,
Mary