K
Self-Portrait with Thorn Necklace and Hummingbird by Frida Kahlo
Each month Art Bead Scene posts a painting, or other piece of art work to inspire readers to create a piece of jewelry and or an art bead. On our Beads Monthly Challenge
Pinterest Board
this month we have several new art bead artists to introduce you to: Andrea Salkowe of
Josephine Beads
; Cate Van Alpen of
Fulgorine Beads
; Julie Wong Sontage of Uglibeads and Sue Evenson of
Tres Jolie Designs by Sue
.
Last month, you may remember I wrote about the bead artists inspired by Emily Carr's painting.
You can view that post
Here
. This month the artists I mentioned above have been inspired by Frida Kahlo's painting Self- Portrait with Thorn Necklace and Hummingbird.
I will begin with Andrea Salkowe of Josephine Beads. This is her first time submitting beads for the Art Bead Scene Challenge. She writes that she was inspired by the primitive aspects of Frida Kahlo's work in combination with the sophistication of her style. She believes the beads pictured below capture these two elements of Kahlo's painting.
Ceramic Bead by Andrea Salkowe of
Josephine Beads
Andrea's career as an artist has involved many different mediums but now her favorite is clay.
Here are a few examples of "her tiny works of art" as she calls her beads.
Set of 10 handmade ceramic glazed art beads cubes "box numbers" on Etsy
When I corresponded with Andrea about her work she shared her ideas about bead making with me and gave me permission to post them here:
My objective is to challenge the definition of the word
"
bead
"
, to enable jewelry artists to stretch their imaginations, exploring ever changing possibilities in color and texture.
Wikipedia defines the bead as
"
a small, decorative object that is formed in a variety of shapes and sizes
…
.and that is pierced for threading or stringing
"
. This seems very narrow to me. Having painted on many mediums in my life, I consider my ceramic beads and pendants as intimate 3 dimensional canvases. The options are endless and take me on a never-ending journey. I truly hope that those who love to create will travel along with me, incorporating my bits of art in their own creations.
Beads have been in existence for over 40,000 years. Buried in ancient tombs to carry their story into the next life. These little objects of adornment tell my story
…
a diary or journal so to speak, leading up to where I now am and where my dreams might take me along life
'
s journey."
When I asked Andrea to share some pictures with us of her beads illustrating some of these ideas she sent me the following ones: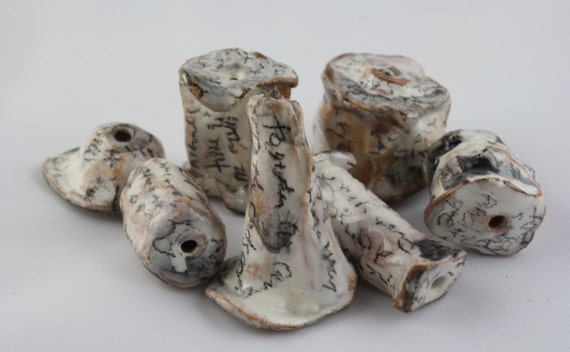 Set of 7 handmade quirky wordy ceramic glazed hollow art beads jewelry pendants "stream of consciousness" by Andrea Solkowe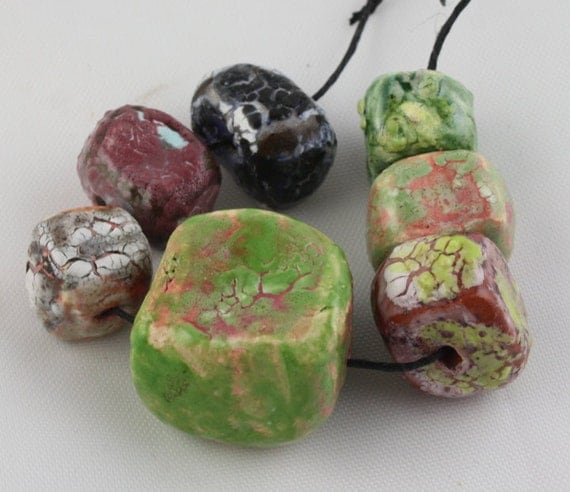 Set of 7 handmade ceramic glazed art beads cubes with amazing surfaces "crawling cubes2 by
Andrea Solkowe
You can find more of Andrea's work at Josephine Beads on Etsy
+++++++++++++++++++++++++++++++++++++++++++++++++++++++++++
Next we will meet
Julie Wong Sontag of Uglibeads
. Julie is a lampwork bead artist from Edmonton, Alberta, Canada. She tells that she first was smitten with beads at a very early age by a necklace in her mother's jewelry box--a loom woven piece made by a Canadian First Nations craftsperson. At 12 she bought her first bead book Beads!! by Stephanie Tomlin. Today she is a full time self supporting lampwork artist. She is proud to report that she is not self-taught and that she loves to learn. She has been making lampwork beads since 2001 when she made her first strand of Ugly Beads. She still has it and it morphed into the name of her business: Uglibeads. Julie says she picked that name because it "
reminds me of the importance of learning and growing, and giving myself permission to try - and fail - at new things. When you first start making stuff, whether it's jewelry, art beads, poetry, music, whatever - your first attempts aren't always pretty. Why should they be? You're a beginner, right?
"
Julie's submission on Pinterest for this month's ABS Challenge is pictured below:
When I asked her about her inspiration for this bead she told me "
Most of the time, inspiration happens organically for me. When I saw this month's challenge, I was very drawn to the colors and symbolism in this powerful, almost hypnotic self-portrait of Frida. I saw in it her strength, bravery, and resilience. The color palette was informed by the Monthly Challenge, but the meaning in the bead grew out of a very emotional and moving experience I'd had that day. When my beads can tell a story and communicate a feeling, I feel I've done my job.
When the bead emerged from the kiln the following day, I was not surprised to see the subconscious influence of the painting's intriguing details. Of course, the leaf motif, but also the shimmer of the dragonfly and butterfly wings, and the mysterious penetrating eyes of the cat echoed in the dot patterning.
"
Hollow Beads by
Julie Wong Sontag
Crossroads by
Julie Wong Sontag
If you would like to see more of Julie's work, I have listed several options. Currently her
Etsy
shop is closed but it will reopen soon.
www.facebook.com/uglibeads
she tells me this is her most active online presence
www.uglibeads.wordpress.com
this is her blog and has lots of information about her beads
You can read an interview Julie did with Esfera Jewelry
HERE
+++++++++++++++++++++++++++++++++++++++++++++++++++++++++++++++++++++++
Our next bead artist is known to the ArtBeadScene community as a jewelry designer but this month she posted on our art bead Pinterest board her first attempt at bead making. But truly she has been making many many beads for her jewelry pieces for some time now. She is excited about being able to offer some of her beautiful work as jewelry components. Lets meet Sue Evenson of Tres Jolie Designs by Sue.
Below is pictured her beads Frida's Leaves
Frida's Leaves from
Tres Jolie Designs by Sue
Sue Evenson says that she has loved working with her hands and making small things since childhood. She took those skill into her career as a dentist for 15 years. While a dentist, she used her free time at home to let her "creative spirit go wild" painting on walls, furniture, fabric, clothes and glass. Fifteen years later, when she decided to stay at home with her 2 young children, she began making jewelry. Her medium is polymer clay.
Sue tells us about how she works and makes her "beads.
"When you speak about beads, as far as my work goes, I guess they are not your typical beads. Because of them not being traditional, meaning having a some sort of 'hole' in it, I have really never entered the 'bead' challenge board. When I design a piece, I have some sort of plan in mind, but I don't usually put any holes in them until I actually start piecing it together.
This allows me to have more freedom as to where I may want the 'beads' to go.
I may try and make more beads that I can envision other artists being able to use in the future. But, having a piercing tool is so important!
I really do so enjoy these challenges. They have really made me push the envelope!"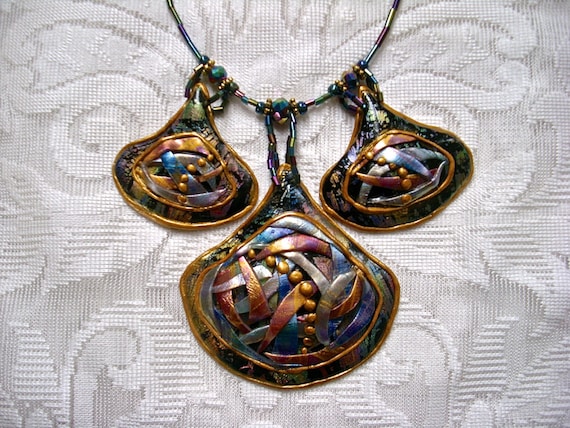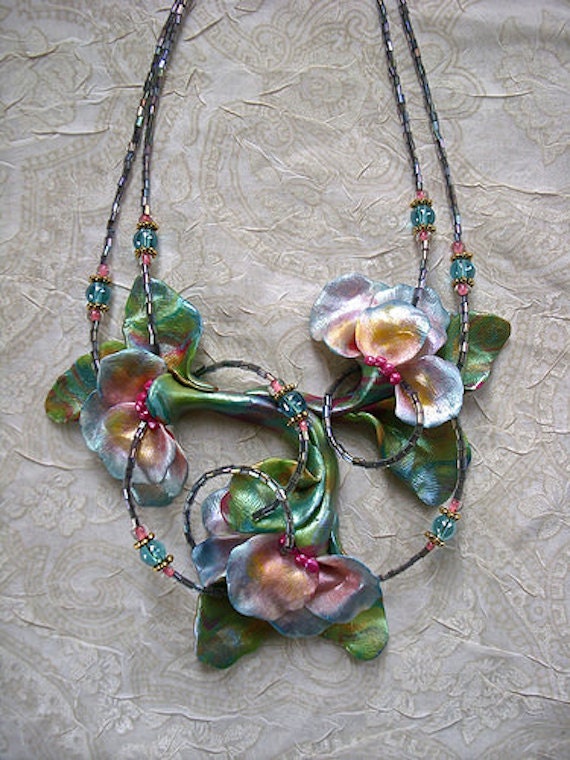 Unique Handmade Polymer Clay Statement Floral Necklace~Swirling Flowers

by

Tres Jolie Designs by Sue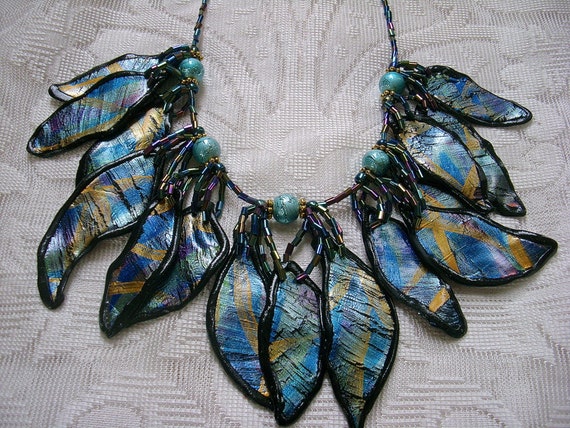 Unique Handmade Polymer Clay Statement Necklace~Crackled Black Feather-Like Shapes by

Tres Jolie Designs by Sue
I am looking forward to seeing Sue offer some of these beautiful leaves, medallions and flower as beading components.
You can see more of Sue's work
Sue's
Etsy shop
Her
Flickr Site
Her
website
+++++++++++++++++++++++++++++++++++++++++++++++++++++++++++++++++++++++
Our next artist is Cate Van Alphen of Fulgorine who currently hails from the Uk England but spent the first half of her life in South Aftrica; She is a polymer clay artist who has a varied career as an artist including traditional painting, stained glass and computer animation (she has a degree in computer science.) Cate began working in polymer clay in 2009. She likes polymer clay because it allows her to work with with both color and texture. She reports that she has even used polymer clay as paint--again combining her two passions: color and texture.
Cate's 2 submissions to the
Bead Pinterest
board this month follow.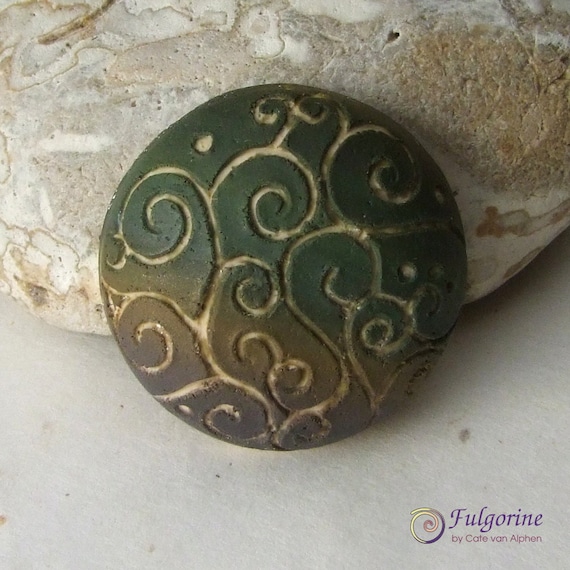 Hollow Polymer Clay Cabochon by Fulgorine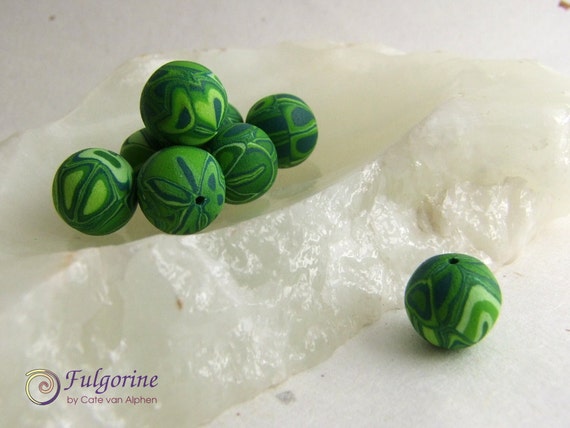 Unique Polymer Green Beads By
Fulgorine
When I asked Cate about her inspiration for her beads this month she tells me that
"I'm fairly chaotic and intuitive when I work. When making beads my inspiration usually starts with a colour combination that speaks to me. I try to make my beads with different shapes, sizes and textures so that I can combine them in interesting ways to make a finished piece of jewellery. Often my pieces of jewellery start because I'm inspired by the interaction of beads I find together in my workspace. There's generally a lot of trial and error to find something that looks right. "
Her beads cover a wide range of expression but always reflect her love of color and color combinations.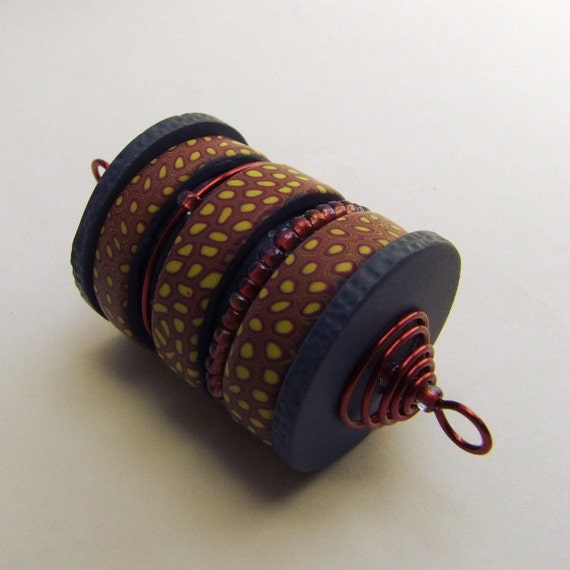 Kinetic Cylinder Bead by
Folgarine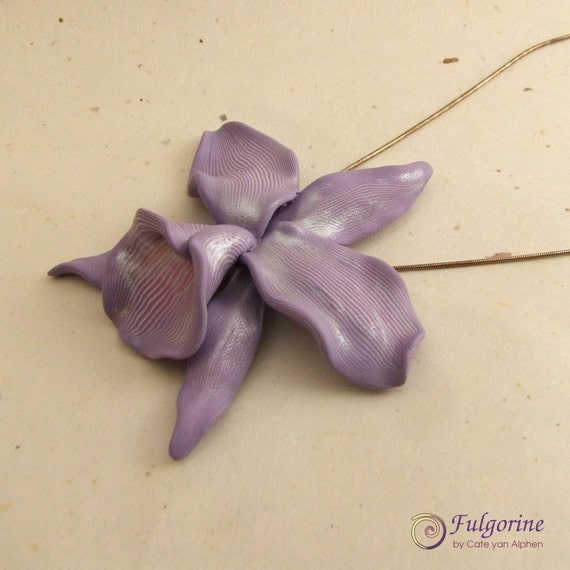 Polymer Clay Orchid by
Fulgorine
an example of some of her textured beads --you can find out how she made them on her blog post
here
You can read more about Cate van Alphen at the links listed below
She has some free tutorials
Here
She actively blogs
Here
You can find her on Facebook
Here
She has two Etsy Shops: one for
beads
and one for her
jewelry
********
I hope you have enjoyed meeting these art bead artists today. If you would like to participate in the art bead challenge you will find all of the necessary information on how to do it
HERE
The ArtBeadSceneTeam and our readers look forward to seeing what you make and how you were inspired.
Thanks so much for stopping by today.
Mary