Ma'at from Tomb of the Queen Nerfertari
1255BC
Valley of the Queens
This month's challenge art work, pictured above, got me thinking about Egyptian art and their very early use of glazed ceramic material which is known as Faience. It was unique in its time as it was a self glazing kind of clay. It was composed of chemicals that would drift to the surface of a piece while the clay dried and when fired would give the piece a glassy colored finish. Egyptians thought the bright shiny faience glistened with a light symbolic of life, rebirth and immortality. According to my research, a very popular color at the time was a Lapis Lazuli blue. I recently tried making pieces with a modern version of the clay called Egyptian paste. (You can find this kind of paste clay from
Laguna Clay
or at
Seattle Pottery
where they make it themselves. It only comes in two colors from Laguna Clay: White which you can add color to or Copper Blue and many colors from Seattle Pottery. The clay I used was from Amaco and has been discontinued. Below is a picture of the package which assures you it is like "the real thing."
Egyptian Paste in a commercial package. Add water into the plastic bag and knead until fully absorbed and smooth.
In the picture below you can see the pieces drying and crystals forming on the surface which will melt in the kiiln and become the "glaze."
picture of crystals forming on the Egyptian paste
Once dry, I fired them in my kiln without any glaze or coloring. I used some kiln paper that works with fused glass so they would not stick to my kiln shelf. I think that they came out a lovely shade of blue that might be somewhat like what the Egyptians favored.
Small pendants and charms made with Egyptian Paste Blue color
About the same time I was thinking about Egyptian Paste, I became aware that Andi Fasimpaur, ceramic artist and one of the co founders of the Beads of Clay, had hand carved a series of molds of Egyptian artifacts. Andi made these molds to share with her daughter's social studies class. She has generously given me permission to use some of her photos for today's post.
Push molds hand carved by Andi Fasimpaur
mold of the wedjet-eye --a powerful charm for protection against evil happenings-hand carved by Andi Fasimpaur
Ceramic push molds and artifacts made by Andi Fasimpaur
Finished pieces made from Andi Fasimpaur's hand carved ceramic push molds
All of these molds made by Andi Fasimpaur would be great to use with ceramic clay and with Egyptian paste. I found that the Egyptian paste is quite hard to work with. It crumbles and breaks apart easily. That is why push molds and stamps like Andi's are perfect for it. When I went looking on Amazon for a book I once had on making egyptian amulets, I was quite fortunate to find that it is once again available. It is called
Fun with Amulets by Diana Craig Patch
, published by the Metropolitan Museum of Art. It is not only a book but a kit which includes a mold with 24 different amulet forms. Each one is modeled from an actual Egyptian amulet or amulet mold-- quite incredible!! It comes with a small book that explains the function and meaning of each of the molds and how they were used in their time and how they can be used in the present for amulets and charms as well. The kit was originally designed as an education product for children and also comes with several blocks of polymer clay.
photo of the cover of the book Fun With Amulets
photo of the silcon push molds of the amulets and charms
I had better luck using modern ceramic clay with these molds than the Egyptian paste. Some of my results are pictured below. The scarbs are made with the Eqyptian paste and the rest are made with a Terra Cotta ceramic clay.
Several charms and amulets based on ancient Egyptian molds

To round out this tour of possible extentions of this month's challenge art, I did a search on Etsy to to find some modern art beads made from Egyptian paste and found the following: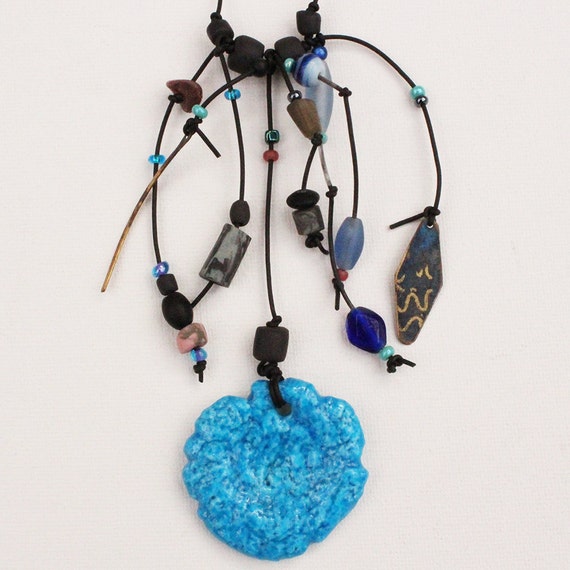 Necklace from Hooked Wear on Etsy made with a handmade Egyptian Paste pendant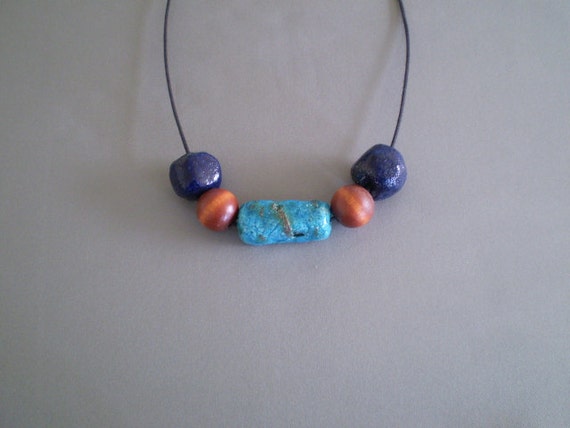 Strung Egyptian paste and wood beads by Gaynells on Etsy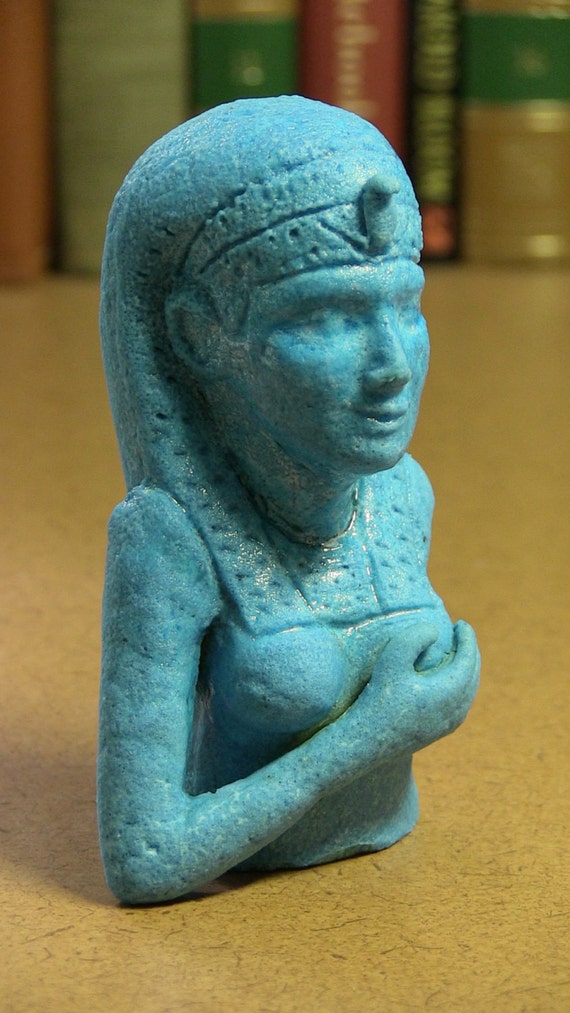 Egyptian Artifact Isis Figure made from Egyptian Faience by Ceramicland on Etsy
I hope this look at Egyptian Faience and its present day applications will inspire you to continue on with the many aspects of Egyptian art that can inform our creations and our art beads.
Thanks so much for stopping by.
Mary
www.maryhardingjewelry.etsy.com
www.maryhardingjewelry.com