Cover Making Etched Metal Jewelry by Kristen Robinson and Ruth Rae
Maybe you missed this book when it came out like I did, or you have recently become interested in learning how to etch metal ? Or you like mixed media jewelry with a bohemian twist. In any of these cases, you will find
Making Etched Metal Jewelry, Techniques and Projects, Step by Step
, by Kristen Robinson and Ruth Rae, a good introduction to the techniques of etching and the construction of many inspiring jewelry projects ( there are 17 to choose from.) Etching metal is almost magical and is a great way to give your handmade pieces a unique one of a kind look as you can see in the samples here from the cover of the book.
4 examples of projects in the book
The book begins with the specific techniques involved in etching metal. The authors have chosen to focus on the two most frequently used methods: etching with Ferric Chloride and etching with Muric Acid and Hydrogen Peroxide. Since both methods involve the use of chemicals that require special precautions in order to be used safely, I want to be sure to draw your attention to the safety guidelines that have been clearly stated on page 8. In addition, it is important to note that the methods discussed are only suitable for Brass, Copper and Nickel Silver.
Besides teaching how to etch metal, the book also addresses a number of metal working and beading techniques to help you make its many mixed media and bohemian style projects. You will find information on tools to use to, supplies needed, basic wire wrapping techniques for attaching beads to your work and specific instructions on how to use a circle cutter, dap a metal disk into a dome, how to use a jeweler's saw, and how to use 3 different kinds of patinas and more.
For me the strength of this book is the special ways that etching can personalize your jewelry. Using just a black Sharpie permanent marker you can write on metal and etch whatever words you want to have on your creation. No need to reverse the text and use a complicated procedure to get what you want to say on your piece.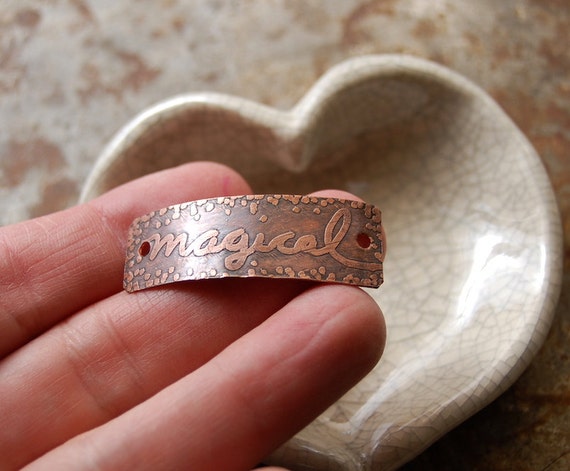 Pre-Order / Etched Copper Curved Bars - Original Drawings on Copper - Made to Order by Gaea
You can use Stazone permanent black to ink up one of your own handmade rubber stamps or a commercial one to get an image on your metal and it will come out etched. And that Sharpie marker is also great for drawing on metal and designing your very own bead caps, tube beads, disks and pendants.
Circle disks stamped with Stazone ink and etched; Tube beads drawn on with permanent black Sharpie marker and etched. by MaryHardingJewelry
Another aspect of etching that I learned about in this book is making etched metal chain links. You will find several different handmade chain styles using etched links featured in the projects. What a great idea for enhancing your jewelry. I can't wait to try my hand at making some.
I hope you have found this look at
Making Etched Metal Jewelry
helpful and intriguing. You can get it at your local bookstore or on
Amazon
. The Amazon site allows you to have a "look inside" so you can see even more pictures and features of this publication. For more examples of jewelry using etched metal components, you can visit my
Pinterest Board.
Thanks so much for stopping by today.
Mary