Southwestern Style Ladder Necklace by Mary Harding Jewelry
Introduction
Over time I have learned that I like necklaces with lots of stuff up front. By that I mean multiple strands, thick rows of large beads dripping with fringe , fiber and more. In fact , that is how I got into free form peyote stitch: it made it possible to put all sizes of beads together to create a wall of color to wear around your neck and over your chest.


In the last year or so I discovered the ladder necklace and found that it too lets you create bands of color, texture and interest without out having to have statement size beads or complex seed beading skills.


So today I am going to share with you a basic ladder building necklace tutorial with you. You can visit my Pinterest board of Ladder Necklaces for further inspiration
HERE.
Essentials
Size: Overall 24 inches


Supplies:
24 inches of 6.5 mm etched brass or copper chain
1 Yard of waxed linen
Size 3 mm Toho Magatama seed beads—small package
2 flat disk beads
2 round beads
2 twisted disk art beads with floral texture
1 handmade brass and solder toggle clasp
1 handmade ceramic 2 hole art bead about 3 ½ inches in diameter
2 10 mm jump rings
3 5mm jump rings
Glue

My Version of a ladder necklace consists of several key components:


1. a two hole or 2 loop pendant
two hole pendants by MaryHardingJewelry
2. Thee rungs
close up of the three rungs
3. Chain and Toggle Clasp
close up of chain and toggle clasp
Next I have included a Fleshed out version of the supplies which includes comments and info about these 3 components of the necklace as well as a few suggested suppliers.
Fleshed out version of Supplies ( including suppliers)
Chain
: I used two packages of Vintaj 16 inch 6.5mm etched oval cable chain to create two pieces of 12 inches of chain. I like this size of chain because the links are large enough to count easily ( but not so large as to dominate the necklace), a necessary task to make sure that you ladder rungs are evenly spaced so t hat you central pendant hangs properly. You can get similar chain on line at
Fusion
Beads.com;
Artbeads.com Bello Modo.com and most likely at your favorite craft supplier.
Waxed Linen: 1 yard. Pick a color that will go well with the other beads you will be using. There are many many colors available in most online and brick and mortar beading shops. I used 3 ply waxed linen and it fit easily thru the see beads I used to construct the ladder rungs. You can find different colors and thicknesses of waxed linen on Etsy and by searching with Google.


Seed Beads:
I used TOHO Magatama seed beads for the ladder rungs and to attach the disk and round beads. They worked well with the waxed linen. The curved tear drop shape of these seed beads gives an organic look to the ladder rungs of this necklace. I picked a color that was a mix of brown and turquoise. A small 8 gram package of these Magatma beads will give you way more than you need but I am sure you find other uses for them. They are really wonderful beads to work with. Available online
FusionBeads
and many other online stores and some brick and mortar craft and bead stores.
The disk and round Beads
: The flat and round ceramic beads are handmade by
FireFlyDesign Studio
. They are very well made and her colors are wonderful and she always has the right size. I made the twisted disk beads and they were raku fired last year at a community workshop I attended.
The Art Bead 2 hole Pendant
I did some searching on the internet for two hole art bead pendants and found that they are not that plentiful but here are some suggestions for where to find a few:
FireFlyDesign Studio
;
MaryHardingJewelry
;
Gaea Handmade
,
J.Davies Reazor
, and
HappyFishThings
.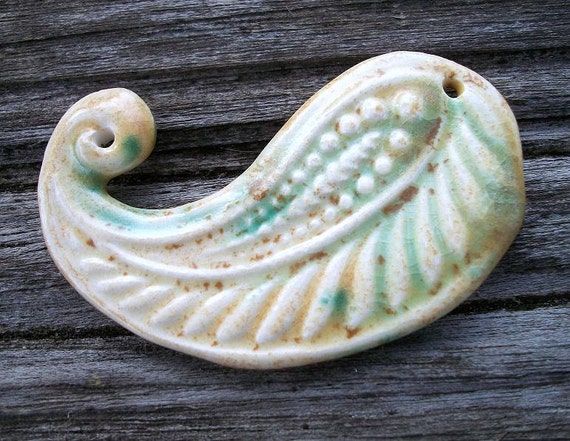 FireFlyDesignStudio
2 Hole Paisley Pendant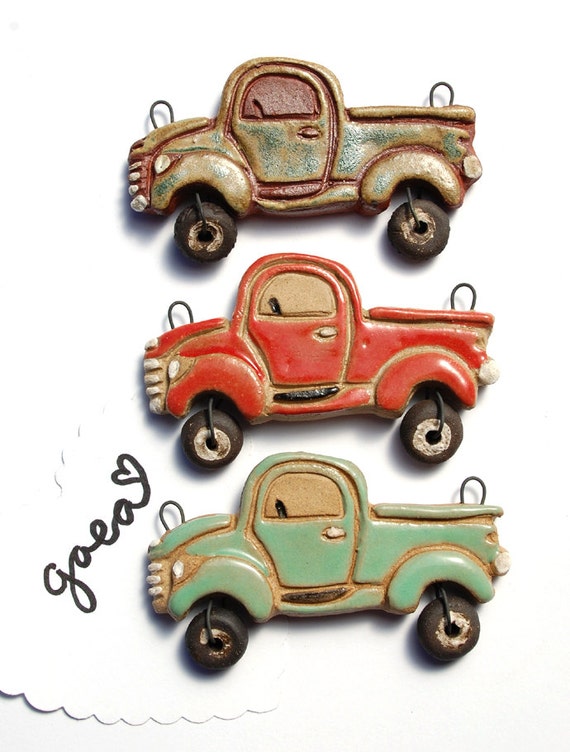 Gaea
2 loop Pendant On the Road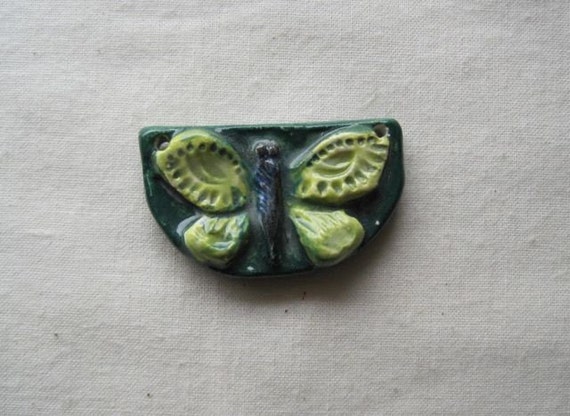 jdaviesreazor Spring Butterfly 2 Hole Pendant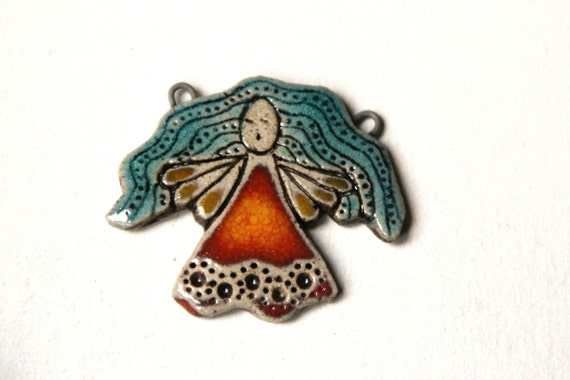 And finally the directions for how to put this all together.
1. Measure out 2 even pieces of chain i.e. they should each have the same number of links( I counted 47 links for each piece of chain- and measure about 11 1/2 inches for a 24 inch neclace considering that the toggle clasp will take up about 1 1/2-2 inches. ( 1 1/2 inches using the clasp pictured.)


2. Attach one of the 10mm jump rings to each length of chain.


3. Then attach your 2 hole pendant to the jump rings (see picture below)


2 hole pendant attached to chain links with 10mm jump rings
4. Making the rungs
Cut a 9 inch piece of the 3 ply waxed linen. One for each rung. The rungs gradually widen as you go up.


For the first run, string on 20 of the Magatama seed beads. Use 24 on the 2nd rung and 32 on the third. For the first rung (lowest one) center the 20 Magatam seed beads on the 9 inch piece of waxed linen. Tie the linen to the inside of the 3rd link of each piece of your chain with an over hand knot. Do not cut the tails. Do the same for the 2nd rung on the inside of the 7th link and for the 3rd rung on the inside of the 11th link of each piece of chain. Check to make sure that the rungs hang evenly and straight.


5. Adding the Ceramic Beads
To attach the ceramic round and disk beads at the both sides of each rung you are going to thread the long end of the waxed linen remaining from stringing on the seed beads, through the hole in your bead, add 3 Magatama seed beads and then go back through that hole and tie a slip knot around the threads. See pictures below:
Attaching the disk and round beads with a picot and in the following picture securing with one or two slip knots. Use a drop of glue to further secure.
Tying the slip knot around the attached round or disk bead at the side of each ladder rung
Close up of beads at end of rung attached. Repeat procedure for each rung.
6. Attaching the Toggle Clasp
Use the 5mm jump rings to attach the toggle clasp and its bar to the ends of the chain.
Now your necklace is finished!!!
I hope you will give the Ladder Necklace a try. You can probably find most of these supplies in your stash and improvise for what you do not have. Or you could try your hand at one of the necklaces on my
Pinterest Board.
Enjoy!!
Thanks so much for stopping by!!
Mary