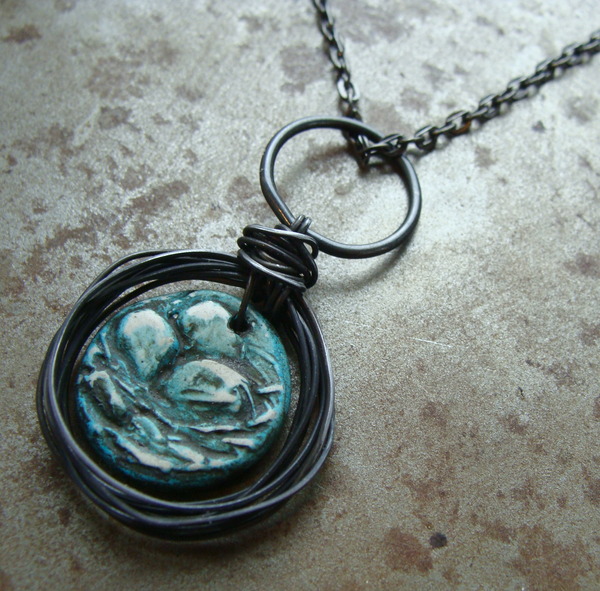 Short on time and need to whip up a 1/2 dozen Chrismtas gifts? Give this easy project a try.
24" 24 gauge steel wire
15mm gunmetal jump ring
18" gunmetal chain
Tiny nest charm
1. Leaving a 3" tail of wire, wrap the wire in a circle slightly larger than the charm.
2. Continue wrapping the wire over and under, forming the nest shape. Wrap the wire three times around the entire bundle of wire. Leave 6" of wire.
3. Pull the 3" tail of wire through the charm and up and around the top of the nest. Wrap a loop around the pliers twice to form a double loop.
4. Wrap the rest of the wire from the 3" tail around the base of the loop. Wrap the remaining wire around the loop to from an entwined loop.
5. Add jump ring to the loop and string the chain through the jump ring. Buff the wire with Vintaj's Metal Relief Block or a polishing pad.
Be sure to check out my
Etsy shop
for my entire collection of tiny charms!
Last week on
Earrings Everyday
I featured this variation using Meadowlark charms and tiny nests. I left 3" tails of wire on both ends of the nest to create the wrapped loops.